JAPANORAMA NO MUSUKO
Jonathan Ross, national treasure and erstwhile otaku, has just returned with another series focusing on all facets of Japanese Pop Culture, albeit shoved away in the late night schedules on BBC3 (in the UK, that is). It's a sequel to his 2002 BBC Choice series also entitled Japanorama, which subsequently led to Adam & Joe Go Tokyo in 2003, both from Ross' own Production Company.
I'd be telling a strawberry lie if I said I wouldn't have preferred a return trip by Buxton & Cornish - whose Go Tokyo series I'd recommend one of the finest of it's kind - but who can begrudge the ebullient Ross bounding around his favourite country like a kid in a day-glo candy store?



The eclectic choice of subjects in episode one (Kakkoii - Cool) included video artist Nagi Noda, star of Ichi the Killer Tadanobu Asano and a pop round to the palatial pad of Nigo, the billionaire brains behind Bathing Ape, another big kid whose massive toy collection Ross eyed appreciatively. A few of sections shot by too quickly and others were slightly damp squiddy - such as a somewhat pointless interlude with beardy tunesmiths The Magic Numbers - but on the whole it's a series well worth catching. (Extra points for continuing to use the eye-popping animated links from series one, designed by Junko Mizumo).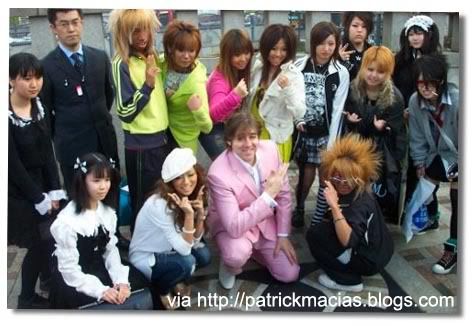 Expert author Patrick Macias was a consultant on the show, which may account for the high quality of the contributors - you'd be well advised to pick up his fantastic book Tokyoscope, which is crammed full of cult film illumination.
Never afraid to be a spoil sport however, I'd like to leave you with a clip from the aforementioned Adam & Joe Go Tokyo, illicitly uploaded on Youtube (not by myself I might add). It's the chaps themselves doing a spot of simply brilliant busking in the guise of Gaijin Invasion, part of their series long mission to become big in Japan. Sumimasen!