THE BOMBAY CONNECTION - BOLLYWOOD BEATS BUST FORTH FROM BRAND NEW LABEL!!

The first thing that grabbed me by the cojones when it came to Bollywood was the music. I have vague recollections of a Saturday morning Bollywood clip show which transfixed me as a nipper back in the 80s, but it wasn't until about six years ago - when I started stacking up a few soundtracks and the movies from whence they came - that the fever fully took hold.

I simply couldn't believe that guys like R.D. Burman, Kalyanji V. Shah & Anandji V. Shah weren't as renowned the world over as Ennio Morricone or Issac Hayes. This was music that ignited the screen, firing off a dozen different musical manoeuvres with more key changes than a locksmith on overtime. As everyone who loves Bollywood movies from it's 30 year golden era knows, these films truly come alive when the playback begins.

If you've yet to be properly introduced Bollywood's mostly uncharted extremes and excesses, or the multitude of illicitly uploaded Youtube clips have tickled your taste buds, I can't recommend a better starter course than two lovingly compiled and recently released CDs from Amsterdam based raiders of the lost archives, The Bombay Connection.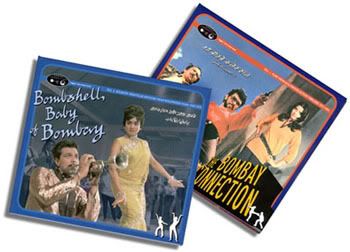 Personally speaking, a massive bugbear with previous collections has been the distinct lack of information on the actual films the albums are compiled from. Far from skimping on info, the sleeve notes from The Bombay Connection are filled to the brim with bios, rare stills, posters, lobby cards and art from the featured features, not to mention full lyrics from each number helpfully translated into our mother tongue.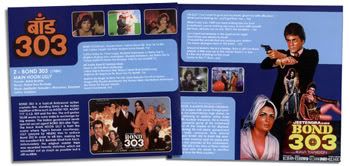 All this effort would be for naught if the track selection wasn't up to scratch, but producer Edo Bouman along with fellow collector and compiler Milan Hulsing have created power-packed playlists which dip in and out of the fresh and familiar - giving vent to the full musical spectrum which created the unique and bombastic sound of Bollywood's heaviest hitters.

The first release, The Bombay Connection, features solid thriller funk from 1977-84, including such heady highlights as the sensual Yeh Dhuaan from Dil Aur Deewaar, Main Hoon Lilly - Helen's number in Bond 303 - (both performed by the ever-present, effervescent Asha Bhosle), dance music from frenzied obscurity Ghamandee and the downright dirty Na Na Na Yeh Kya Karne Lage Ho (No No No - What Are You Trying To Do?).


Volume two, Bombshell Baby of Bombay changes pace with a collection of raucous bumpin' bouncin' bongo beat cuts, Beatlesque Rock'n'Roll and Surf licks from the glamorous night club era of vamps and Elvis-styled anti-heroes like Shammi Kapoor.

Further collections are promised under such eclectic titles as Gun Master - Disco Master, New Intoxications, Monster Masala and Spy in Bombay. As long as the high standard set by these handsomely packaged initial releases is maintained, The Bombay Connection has the potential to become the definitive series of Bollywood soundtrack compilations. The only thing missing are the stunning visuals to go with them, although moving pictures not much use when driving in the car, strutting one's funky stuff or typing up blog articles.

The Bombay Connection and Bombshell Baby of Bombay get Poptique's highest recommendation, also adding a fistful of wild and crazy titles to my list of movies I really should see before the year is out...