POPTIQUE'S BATTLE OF THE BONDALIKES
Part One - Agent Vinod, Bollywood Bond (dir Deepak Bahry 1977)
Where else would Poptique start it's Battle of the Bondalikes but in Bollywood - an industry certainly not backwards in coming forward with Bond rip-offs. Aside from double-o-doppelgangers like Gunmaster G-9 in Suraksha (1979), Aankhen (1968) and Farz (1967) there has been a stack of Bond rip-offs with their intentions proudly displayed on their tuxedo sleeve.
From 1977, the year of The Spy Who Loved Me comes Agent Vinod, starring Mahendra Sandhu - an actor I frankly know nothing about. Its Bondalike status is made clear from virtually the word go, as Vinod bowls into his superior's office, tossing his chapeau onto a makeshift Moneypenny's head and engaging in some flirty conversation. Pretty soon Vinod is even chin-wagging with the Indian Q and picking up the regular quota of gadgets.
Agent Vinod certainly doesn't skimp on the action with some wild fights and raucous chase sequences - don't take my word for it, see for yourselves with the following clips. In the first a Freddie Mercury look-alike complete with Oddjobesque hat gets owned at the villain's hideout whilst the second features Helen - the legendary H-Bomb herself - in a breathtaking stuntacular cameo...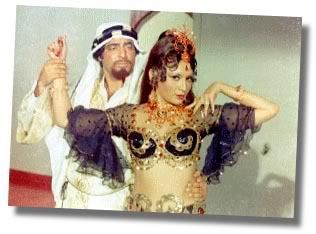 Helen was no stranger to the Bondalike genre, having appeared in Golden Eyes Secret Agent 077 (1968) and coming back for more in 1984's Bond 303, a track from which can be heard on the excellent Bombay Connection CD (read more about that here).



Her one dance sequence in Agent Vinod harks back to her glorious cabaret numbers, and the ubiquitous Asha Bhosle provides playback. Roger Moore may have enjoyed larger budgets, but he never got to dress up as a sheik and join in a singsong. (Incidentally Helen's character Lovelina is referred to as Evening in Paris a couple of times by comic relief Jagdeep).





The film contains more references to the Bond series sprinkled throughout it's running time, the most bizarre being the gold-painted, afro sporting dancers who accompany Helen. There's also a decent hall of mirrors climax reminiscent of The Man with The Golden Gun (not to mention Enter The Dragon and The Lady From Shanghai). The movie is currently only available via a VCD released by Ultraindia. A pristine print of the film might well be a glorious sight to behold - the set design in frequently weird and wonderful despite the low budget - especially in the villain's hideout, where a convenient peephole is located inside a massive, grotesque mouth.

Well worth tracking down despite the lack of subtitles, Poptique unashamedly scores Agent Vinod 004 out of 007.