POPTIQUE'S BATTLE OF THE BONDALIKES
I've got to admit that despite all my preconceptions & misconceptions I'm now looking forward to the new Bond movie. Fair enough, I'm not yet entirely convinced by Daniel Craig, and the new Bond theme is a ropey bit of rawk, but surely nothing can be worse than Pierce Brosnan's pappy crappy swan song Die Another Day. Invisible car? Bugger off.
Sorry to see Brosnan go nonetheless - a great Bond (and by all accounts a decent bloke too) although the films themselves never quite lived up to his potential as the eponymous 007, so it was a shame for him to be booted out without a bonafide classic under his belt.
Whatever Casino Royale turns out to be, it'll never ignite the kind of Bondmania that Goldfinger generated in the mid-60s. Back then Bond was the definitive catch-word for cool and localised film industries around the globe signed up their own secret agents for a taste of that sweet, sweet double-O-cash.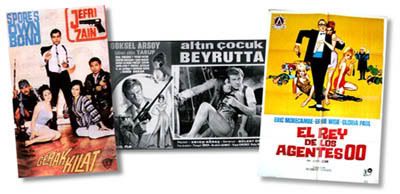 Over the next few posts Poptique will be offering up a selection of blatant Bond wannabees (Bondabees?) for your approval in a unique Bondian brawl to end them all - the Poptique Battle of the Bondalikes - starting just below!