LOUISE BROOKS AT 100
A brief respite from non-stop non-Bonds to register the 100th birthday of one of the screen's most beguiling and indefatigable cult figures - Louise Brooks.

The cult of Louise Brooks that ran the crest of the 50s & 60s Silent Cinema revival isn't as strong as it used to be, but she's still hanging in there above many a star whose career was far happier and sustained. It's arguable that the wide availability of her icon defining films and the dilution of her unique look by decades of copycat style-snatchers may have tainted the central, unobtainable nature of her image. This impression was both metaphorical and literal during the height of her revival, since her films themselves were almost never to be found outside of archive screenings.

Surely then, it's not just the image but the off-screen, real-life Louise Brooks that has kept her from being entirely chipped away like many a passing fad. An independent woman from an era where indendpance could often come with a kick in the teeth; surviving to tell the tale of being chewed up and spat out by the studio system.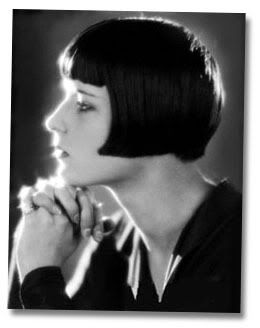 The decisions and contrarieties that killed a career in Hollywood also ensured Brook's immortality - her handful of European films with G.W.Pabst from the tail end of the 1920s creating an entirely definable image. Add to those highlights a drawn out and squalid fall from grace, you have the perfect bastardisation of the Tinsel town success story - from riches to rags, eventually followed by unsolicited but welcome rediscovery and a certain degree of redemption.

Of course, I'm assuming you have a familiarity with the lady we're discussing - if not, a far more detailed and eloquent account can be found by stepping lively to the peerless
Greenbriar Picture Show
.

I, on the other hand, will be back shortly with more bodacious badass Bondalikes! Hoorah!